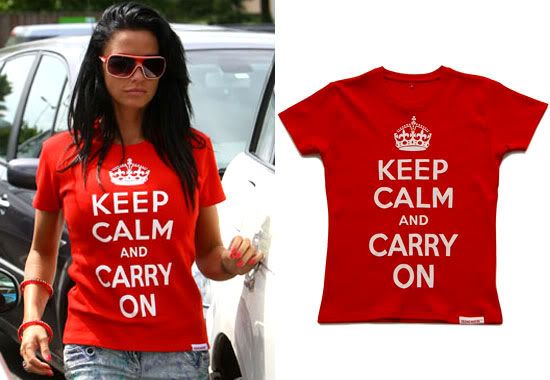 Katie Price stepped out with a red Keep Calm and Carry On T-shirt from
"

Keep Calm London
. It is on sale for £21.51. Keep Calm and Carry On is a classical wartime message during World War 2 against German occupation. It was used by Britain to convey a message from king to his people. At war time period ; posters of the message were printed 2.5 millions and had huge positive impact on people s life.
Today it still give us a powerful message for what is currently going on in people's life as Katie.
If you had a phrase printed on t-shirt , what would you want it to say ?
Katie Price Keep Calm and Carry on T-shirtü ile pazar günü gözükmesi ve dedikoduların yayılması bir oldu...Evet Katie hala gündemde ve ben de özel hayatı bir yana giydiği T-shirt ü sizlerle paylaşmak istedim. 2.Dünya savaşı sırasında Almanya'nın işgali ile sarsılan Avrupa'da , İngiliz kraliyeti halkının yanında olduğunu , kötü günlerin geçeceğini göstermek adına çeşitli posterlerle halkına seslenmeye çalışmış ve başarılı da olmuş. Özellikle Keep Calm and Carry on posteri 2.5 milyon adet basılmış ve bu posterler insanların hayatlarını bir nevi aydınlatmış , onları rahatlatmıştır. Mesaj içerikli posterler o dönemin en önemli protesto kaynağı iken , günümüzde de etkili olduğu yadsınamaz bir gerçek. Özellikle baskılı T-shirtler kimliklerimiz , hislerimiz ve zevklerimizden kısacası hayatlarımızdan ipuçları vermekte...Belki de Katie' de bunu göstermek istemiş.Peki ya siz t-shirtünüzün ne söylemesini isterdiniz ?
Those are some of my choices from Print Liberation.My boss is ... t-shirt makes me think about if there is anyone wearing it at work...
Benim tercihlerimden bazıları

Print Liberation

dan.
My boss is ... t-shirt ü beni, acaba böyle bir t-shirtle işe giden ve hala o işe devam edebilen birileri var mıdır diye düşündürüyor...